A day at Eden is a real adventure. The indoor Biomes and the gardens outside cover roughly 30 acres and take about four hours to explore. The site is brimming with facilities to make your visit easy and enjoyable. 
The paths of Eden climb up and down the slopes of the former clay mine, but there are plenty of places to sit and rest on the way, and toilet facilities, which are flushed by recycled rainwater. And – a little tip – our indoor Biomes are covered in a material that transmits UV, so don't forget the sun cream!
Bring your dog
You can bring your dog to Eden to explore the paths in our Outdoor Gardens (but not our indoor Biomes).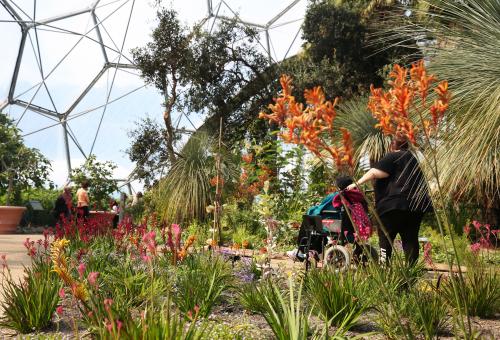 An accessible attraction
We aim to provide a great experience for all ages, abilities and backgrounds. You can get around Eden on fully accessible routes, including to the rainforest canopy. We have accessible parking spaces and toilets (including a Changing Places toilet), personal assistants get in free, and manual and powered wheelchairs are available for free.