Sleep Out for homelessness charities
Join us for our 10th Sleep Out! 
Could you spend a night sleeping outside in November? Help raise awareness and funds to support the tens of thousands of people who experience homelessness in the UK every year.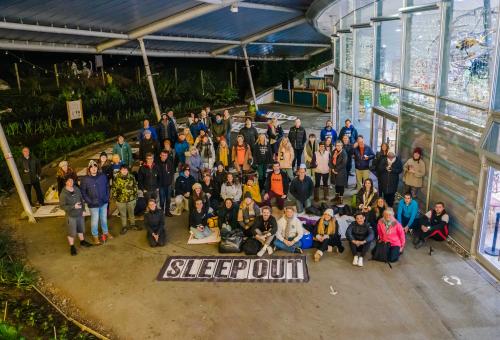 About the Sleep Out
For the last nine years the Eden Project has hosted an annual Sleep Out outside the Biomes, raising thousands of pounds for local homelessness charities; St Petrocs and the Amber Foundation. We're looking forward to celebrating our tenth year of the Sleep Out, this November.
Last year, around 85 participants took part on a chilly night at Eden and raised £13,000 for the two charities. The Sleep Out will be back this year on 16 November and hopes to raise another brilliant amount for the charities.
On the night, participants are invited to 'sleep rough' underneath the canopy of the Link Building between our Biomes to get a feel for what it's like to be a rough sleeper - if only for one night.
Attendees can expect entertainment, such as a reading from a local author, music from a local musician and talks from the sector and those affected by homelessness. Take part in make it yourself cookery workshops for dinner, sleep outside the Biomes overnight and wake up to breakfast in the morning. Unlimited teas and coffees will be available throughout. We only ask that you bring your own sleeping bag.